Christmas is a time for slipping into festive gear, singing holiday songs, adorning your home with decorations, and distributing gifts to your loved ones. But imagine if all of these tasks were to be part of Halloween! How twisted would that be? That is exactly what is portrayed in the movie
The Nightmare Before Christmas
. The movie beautifully mixes jolly and grisly with great success. Even if this holiday movie is part of your Christmas tradition, we bet you are still unaware of some fascinating facts about
The Nightmare Before Christmas
. Thanks to
IMDB
, we bring you 20 such facts that will help you know a little bit more about this amazing Christmas treasure.
1. The Nightmare Before Christmas is based on a poem Tim Burton wrote in 1982 while working at Disney, who had purchased the film rights but felt it was too weird. Years later (after being fired from Disney), Tim realized they still owed the rights and convinced Disney to greenlight the movie.
2. Disney found the movie "too scary" for kids to be released under the Disney Animated Features banner.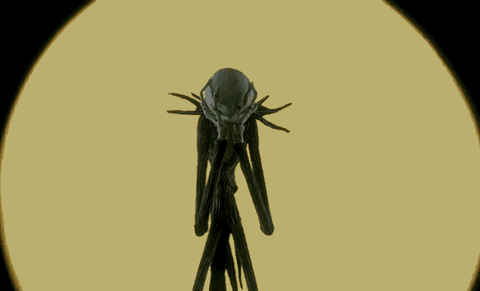 3. It took one week for the producers to shoot one minute of the movie. Overall, the movie, which is of 70 minutes, took three whole years to be produced.
The movie is based on a concept known as "claymation." It utilizes stop-motion animation. This means that rather than filming moving objects, the crew first move the figures and sets little by little taking still photographs. They then finally play them back in rapid succession to simulate movement.
4. Originally, the voice for Santa Clause was to be played by Vincent Price. But before he could record his lines, his wife passed away. The director felt that Price's sadness could be heard in his voice and felt him unfit to portray the joyous Santa.
5. Danny Elfman is actually the singing voice for Jack Skellington. He is responsible for the Simpsons theme, the scores for Pee-Wee's Big Adventure, Batman (1989), and Justice League.
6. The most difficult shot in the entire movie was when Jack Skellington is reaching for the doorknob to Christmas Land. It required a perfect reflection of the forest behind Jack for the shot to work.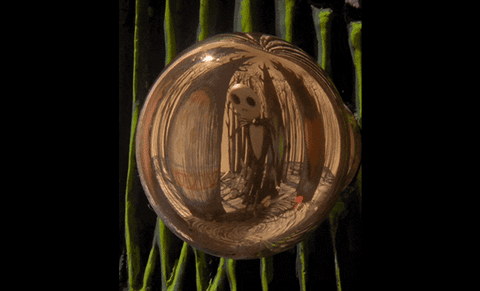 7. Two different people voiced the character Jack Skellington, the "Pumpkin King" of Halloween Town.
Chris Sarandon was the speaking voice, whereas Danny Elfman was the singing voice of Jack Skellington, a skeleton known as the "Pumpkin King" of Halloween Town. He owns a ghost dog named Zero who has a small, glowing, jack-o'-lantern nose. Danny Elfman also voices Barrel, one of the trick-or-treaters working for Oogie Boogie.
8. The top stop-motion animators in the world worked simultaneously on 20 miniature sets, managing to complete about 70 seconds of the film per week.
There were around 120 people working at the same time for the production of this movie. It included animators, puppet and prop-makers, set builders, art directors, camera operators, lighting designers, and editors.
9. Each puppet had an armature inside it enabling flexible movement.
The sculpture department sculpted the characters from the drawings that they got from the art department. They sculpted them in oil-based clay. Oil-based clay is very versatile and can be smoothed out with alcohol.
Moreover, each puppet had an armature inside it which is basically a ball and socket. This enabled the animators to move the puppets into specific postures during the shoot. All the intricate parts of the armatures were hand-machined to fit perfectly for each puppet. This ensured that each tiny movement looked smooth and fluid when posed 24 different times for each second of film.
10. Jack Skellington had 400 different heads that are replaced each time he changes expression, and Sally had a mask for every expression change.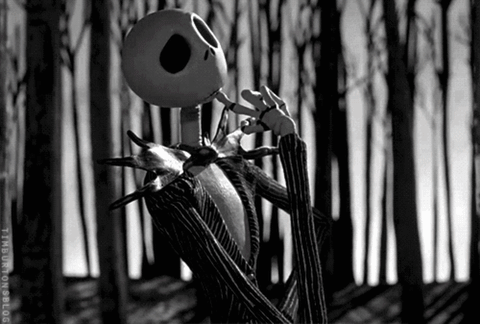 Jack was designed as a long-limbed, spider-like man. To animate his various facial expressions and mouth movements, the animators used 400 hand-sculpted replacement hands. So, every time Jack had a different mouth expression, a whole different sculpture of the head was used. To make him blink, they used replacement eyelids and put them inside Jack's hollow sockets. For each blink, the animators had to shoot 3-4 frames.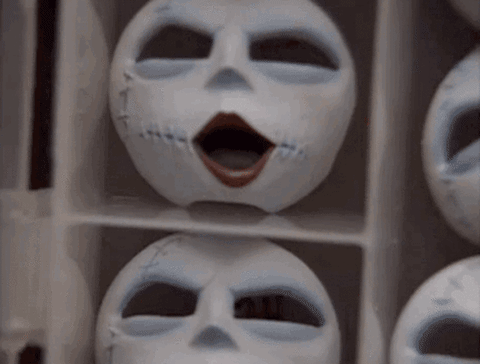 11. Jack Skellington, the lead character/puppet in 1992's The Nightmare Before Christmas, actually made cameos in earlier Tim Burton films: his 1982 short film Vincent and Beetlejuice (1988).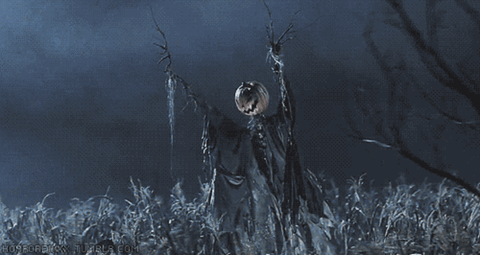 12. Despite Tim Burton's huge involvement with the creation, he was only present about 8 to 10 days of its production during its two-year production cycle.
On the direction of the film, Selick reflected, "It's as though he [Burton] laid the egg, and I sat on it and hatched it. He wasn't involved in a hands-on way, but his hand is in it. It was my job to make it look like 'a Tim Burton film', which is not so different from my own films."
13. Patrick Stewart was the original narrator of The Nightmare Before Christmas.
Patrick Stewart was brought onto the movie early on in its development when Burton's original poem was supposed to play a bigger part in the narrative. But Tim Burton eventually cut Patrick Stewart's narration. His voice can be found on the film's official soundtrack. Here's an opening monologue in his voice:
14. Disney fought to have Jack Skellington's empty sockets filled with a pair of friendly eyes.
15. There are hidden Mickey and Donald Duck references in particular scenes of the movie.
16. In the extended ending to the film, many years later, Santa Claus returns to Halloween Town to visit Jack, and finds that he has about four or five skeleton children.
The ending monologue in Patrick Stewart's voice goes something like this:
17. The "Kidnap The Sandy Claws" music is heard in The Haunted Mansion Holiday ride at Disneyland California and Disneyland Tokyo as an instrumental version.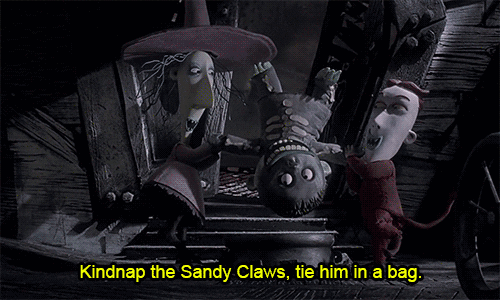 18. All the sets were built in miniature form, but they were lit as if they were full-size movie sets. Some sets required as many as 20-30 lights.
Even though the sets were miniature versions of actual sets, they were lit up like full-size movie sets by using smaller lighting equipment. Many of the scenes required as many as 20 to 30 different lights to create the dramatic effects. "What we're trying to avoid is that looking like we are doing tricks. Coupled with that, trying to keep some style to it. The biggest challenge on the show I would say it's keeping it consistent," said Peter Kozachik, director of photography.
19. Set designer Gregg Olsson built a quarter-scale mock-up of Halloween Town as a model for the real set. The set also had trap doors so animators could pop up and do the animation from beneath.
Gregg Olsson made a quarter-scale, mock-up model of the set from the drawings made by Tim Burton. He also worked on the camera angles to decide how much set is needed for each of the scenes.
He says, "Once the conceptual art is done, we need to somehow realize it in three dimension height, width, and depth." The actual set was four times larger than the mock-up set, about 24 feet in length. Moreover, they had to break apart the set into pieces because, all together, it wouldn't fit into their stages. "So we built into it some specific breaks so that a piece like this could come out," says Olsson.
20. Two items were invented to facilitate the filming of the movie. One was a "light alarm" to warn animators if any of the stage lights failed, and the other was a system that enabled a puppeteer to seamlessly switch to a replacement puppet if one broke.
The second invention was a system for replacing puppets seamlessly into the shot if one broke. This also saved a lot of time during shooting.
20 Lesser-known Facts About "The Nightmare Before Christmas"
Reviewed by
1
on
February 19, 2018
Rating: