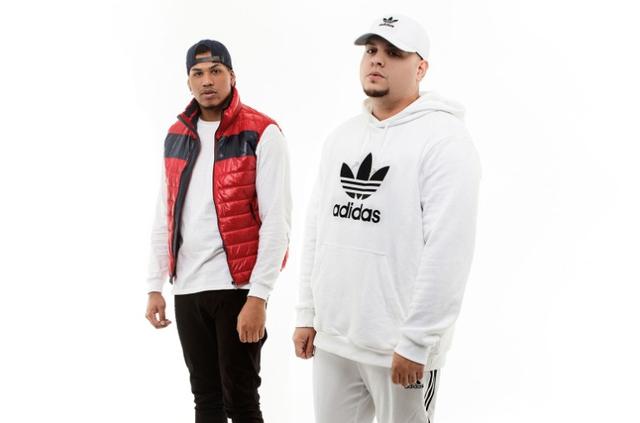 The Puerto Rican Duo Notch Their Second Week at No. 1
For the past two weeks, Billboard's Latin Producers chart has been topped by Súbelo Neo.
It's not an individual, but the production duo made up of Jose Carlos Cruz (aka Phantom) and Freddy Montalvo Alicea. Together, they produced or co-produced 11 tracks from Bad Bunny's new album, YHLQMDLG, including the sensational "Yo Perreo Sola," whose video currently leads YouTube tallies in over 10 countries.
For Súbelo Neo (which roughly translates to "Coming Up New" he "Neo"), the success means not just claiming the No. 1 spot on the producer's chart for the first time, but also the first time getting on the chart at all.
"Yeah, we've paid our dues," laughs Cruz, who is 34 years old while Montalvo is 33. Although the two are Puerto Rican, they met in a Massachusetts recording studio nearly a decade ago through Montalvo's cousin, a producer who worked with both of them. At the time, Phantom was dedicated full-time to music, but for Montalvo it was a "hobby" while he made a living working in retail.
Five years ago, the duo decided to move to Puerto Rico to devote themselves full time to making music and eventually, caught the attention of Noah Assad, CEO of Rimas Entertainment, who signed them up for management.
On working together:
Montalvo: We both do everything, but Phantom is a beast with melodies and production. He can créate something from scratch in very Little time. I also produce and make melodies but I'm not as good as he is. I'm more about recording, vocal editing, mixes, rhythms, engineering. I'm the cherry on top of the cake.
On creating their sound:
Montalvo: People who've followed us since we started know we have a futuristic sound, but we don't lose the reggaetón essence. For example, we use many synths. Other producers use a lot of piano and strings but those are not our go-to sounds. We're about getting a sound, changing and transforming it into something you can't find in any plug-in.
Phantom: We tweak our sounds a lot. If you were to ask me what track in the Bunny album best defines us, it would be "La Difícil." The sound is futuristic but the dembow has our stamp. No one else has that sandungeo.
On working with Bad Bunny
Montalvo: We've known Bad Bunny since before he hit big. One day Noah [Assad, who manages both Bunny and Súbelo Neo] said, "Yo, Benito is looking for some beats." We sent them, and from one day to the next, Noah calls and says come to Miami, Benito has the album ready. WE got there and he started to bring out all the songs.
Phantom: Benito comes to us with the ideas. It's almost like a co-production.
Montalvo: We thought it was going to be a normal placement. One song in Benitos' album. But when we got there, the chemistry was so good he let us work on songs that were already produced. For example, "Bichiyal" he had the rhythm all done. But he said, add detail to it. And after [we worked on it] he sent it to Tainy and he putt he melody.
Phantom: We did the new Lyanno EP [Foreplay, released this week]. If it weren't for the situation we're living [the COVID-19 lockdown] a bunch of things could be happening, because many artists are asking who Súbelo Neo is, and want to work with us. But we're active and working at a distance with many people. We did the Lyanno EP in five days, over Internet. He had two songs done, and we built three from scratch.
Meet Bad Bunny Producers Súbelo Neo, No. 1 on Billboard Latin Producer's Chart
Reviewed by
1
on
April 10, 2020
Rating: